Yesterday morning dawned cold and frosty
you can see the tracks that departing lorries, which had been parked in the dock overnight, left in the frost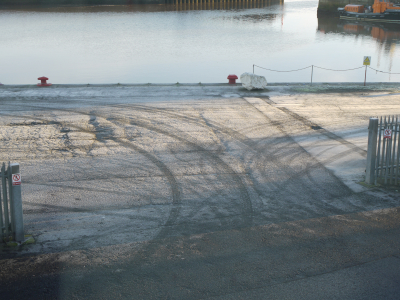 we walked over to town mid-morning, pausing to watch one of the Christmas lights being attached to the top of a lamp post.  These days we are used to over-the-top "health and safety" ....... but there was just one man directing the traffic round the large machine taking up most of the road, no traffic cones, no temporary lights, not even stop and go boards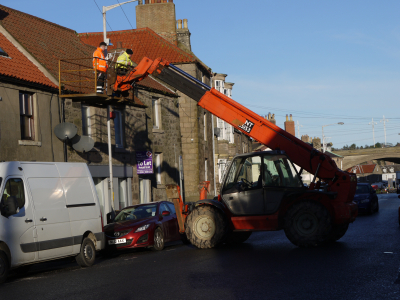 there has been a major refurbishment project going on for months on these two old buildings.  As they are the first buildings you see if you cross the old bridge into Berwick, it will make a great difference when the work is done, giving a much better impression of the town to visitors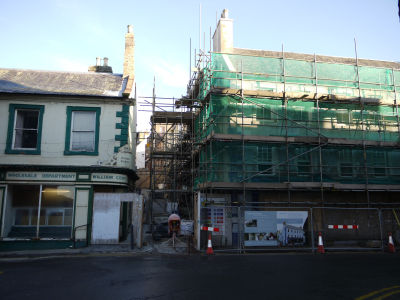 this is looking at the works from the other side.  The businesses affected by the disruption will be very glad when it is finished
Malcolm spotted this town crest on an old lamp post
after lunch, we went for a walk on the beach ....... and were amazed at the aftermath of Storm Angus
Malcolm surveying some of the detritus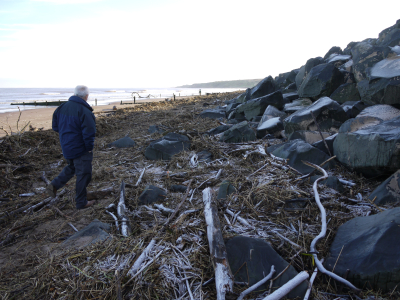 do you remember that after last year's storms we kept seeing turnips on the beach?  Well, this time it is apples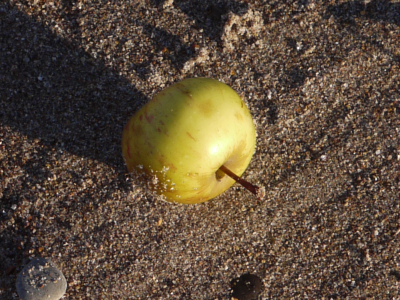 I wonder if they were stripped from trees by the storm, or is someone has lost their apple store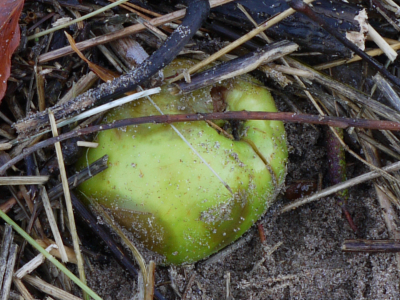 this year, as well as lots of tyres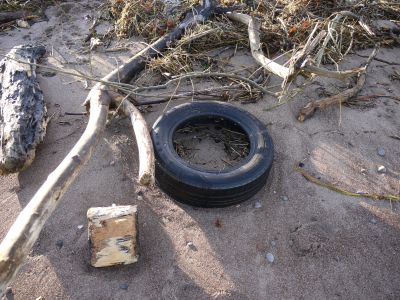 there was a complete wheel!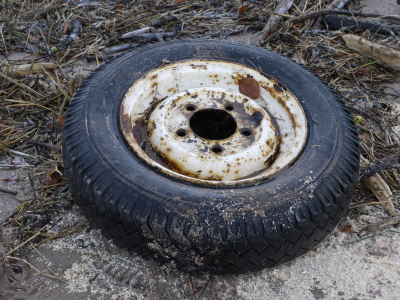 Malcolm thinks this is part of a feed trough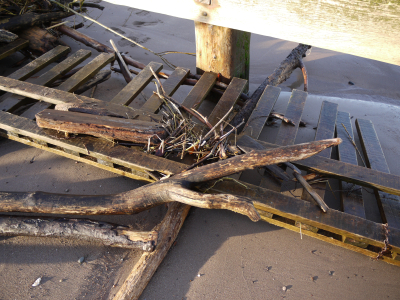 here he is showing the scale of this enormous tree trunk
it is amazing that these huge trunks have come down the river, through all three bridges, to be washed up on the beach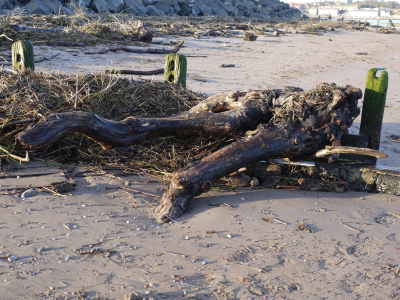 this lump would look good in the garden - if only you could lift it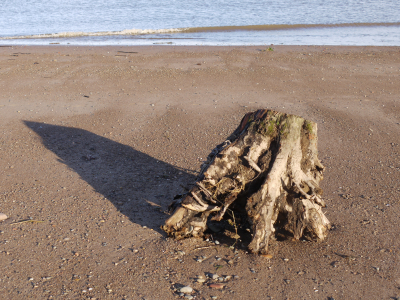 another interesting piece - you can pay a lot of money in garden centres to buy these stumps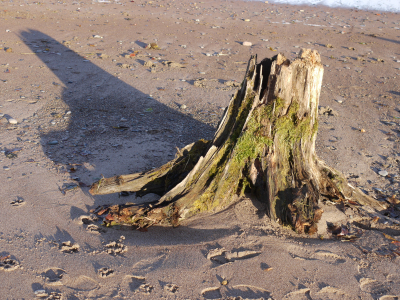 I think the shadow of this branch looks like someone dancing with a handful of ribbons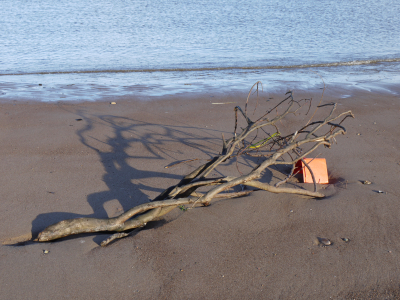 another large piece of tree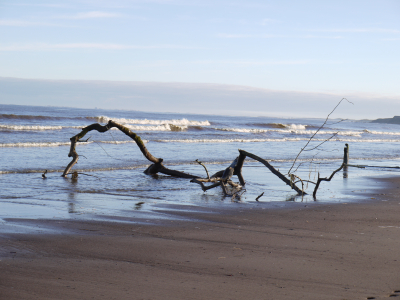 and this is it seen from the other side, with the lighthouse in the background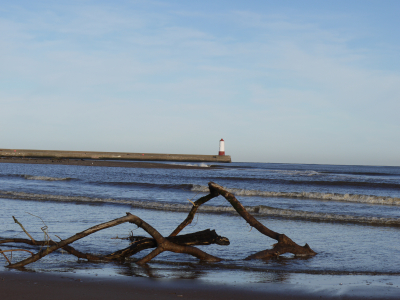 but amongst all the rubbish, there were still little bits of treasure .......  a pretty shard of china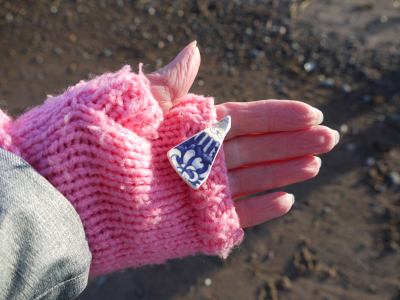 and a piece of seaglass (note to self : please knit new fingerless mitts, those pink ones are rather tatty!!)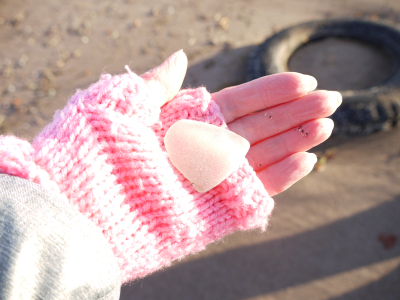 Malcolm threw this at me - fans of Harry Potter might agree with him that it looks like a mandrake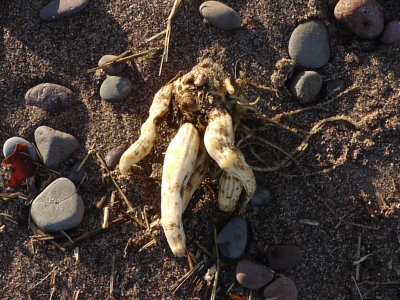 this sheltered corner of sand still had frost on it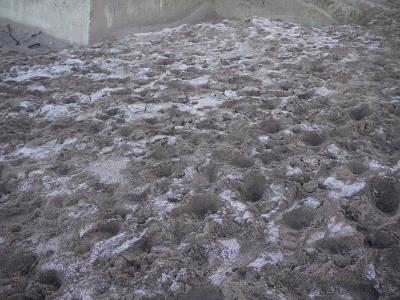 a lot of sand has been deposited on the promenade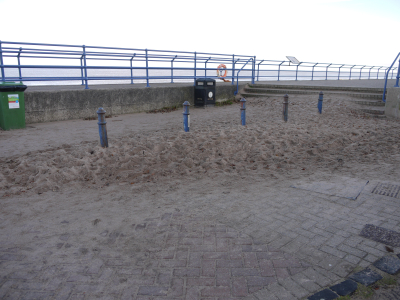 I wonder if the café owners really expected anyone to sit outside in the cold for a cuppa?
it won't be long until all the usable wood will have been cut up and taken away, to be added to log piles  (Malcolm has asked Santa for a Land Rover and a chain saw for Christmas, but I somehow think he will be disappointed on Christmas morning when he looks under the tree for his presents!)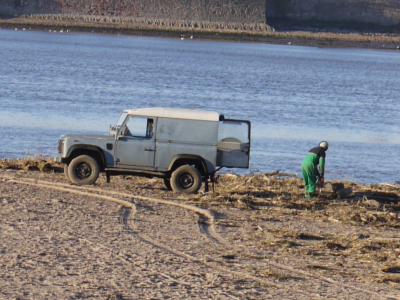 after forgetting to have cake last week (!), I made sure we went for a cuppa at the Garden Centre this morning.  We shared this slice of deliciously gooey chocolate cake
and yes, we ate the little snowman too!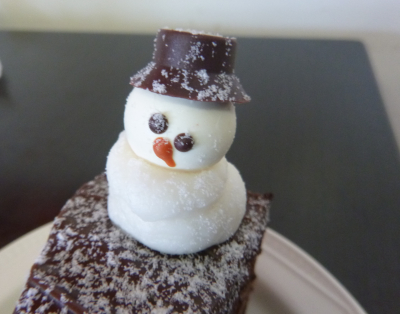 we'll be heading back home tomorrow morning, and I hope to get some more work done on Nelly.  I will also be putting the finishing touches to a special announcement for later in the week!  Have a great weekend, love Anne