As always for our first night back at Abbey Quilters, there was a great deal going on.  Lots of chatting, as we caught up with those members we hadn't seen over the summer break, the queue to pay our dues for the coming year, Sandra our chairman welcoming us back and outlining the syllabus (lots of good talks and workshops).  Then it was my turn, to give a quick introduction to the different methods of doing appliqué, as our challenge block this year is an appliqué one.  I had made up boards with little samples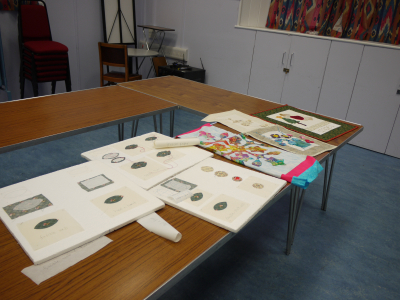 and had taken in a pile of quilts to show the different methods in use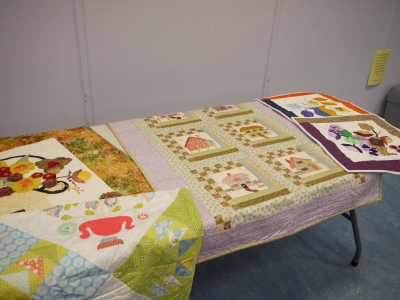 my neat and tidy display didn't last long, as after my little talk the members had a good look at the quilts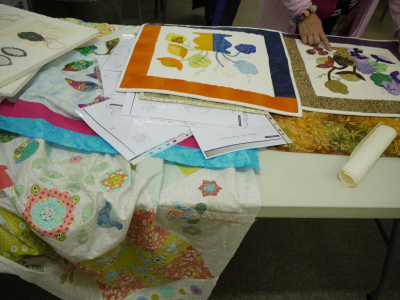 as it was just an ordinary meeting, there was no home baking, just biscuits
and then we had the star of the evening, the supremely talented Margaret, with a selection of her stunning quilt tops (they haven't yet been made into quilts)  Some of the angles of the photos are a bit wonky, as the tops were laid out on tables and draped over chairs.  I love everything about this one, the cute bunnies and the beautiful fabrics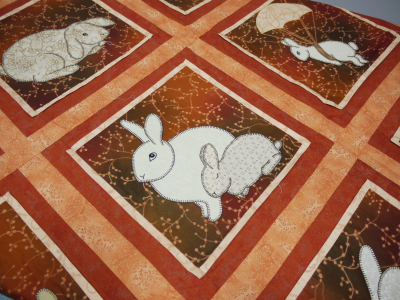 this is my favourite bunny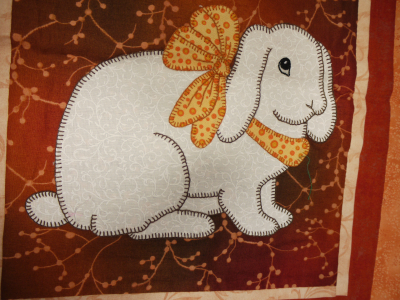 can you see that this cute little girl has a tiny doll in her pocket?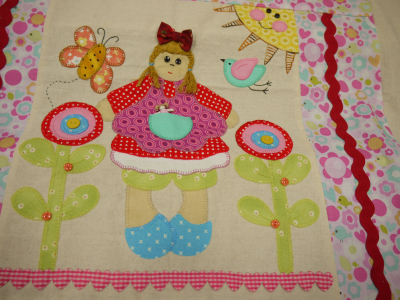 of course I love this wonky, cross-eyed owl!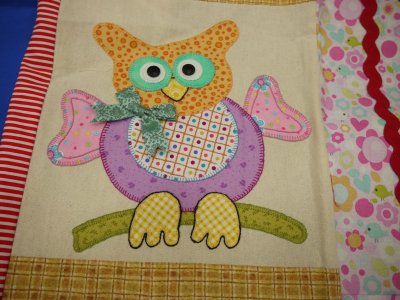 Margaret thought the original pattern of penguins in the snow and ice was a bit boring, so she sent them on a sunshine holiday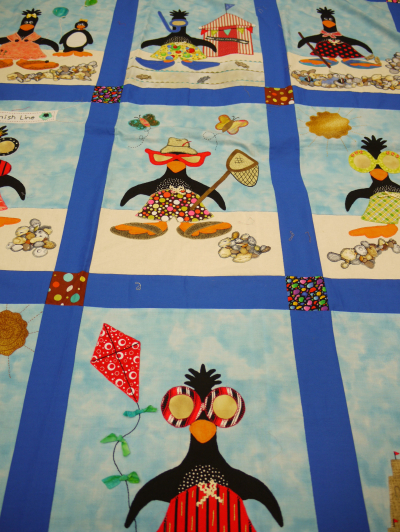 I think this one stole Dame Edna's specs!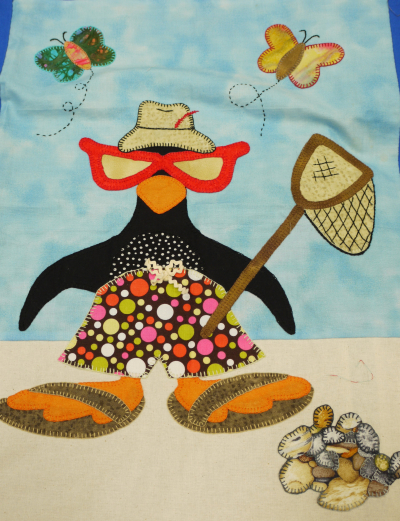 she has done several teddy quilts .........
....... I need another word to use instead of cute, to describe this one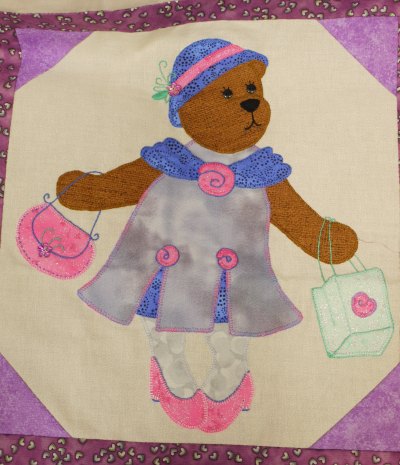 this one is from when she was going the a "bling" phase, with lots of beads and crystals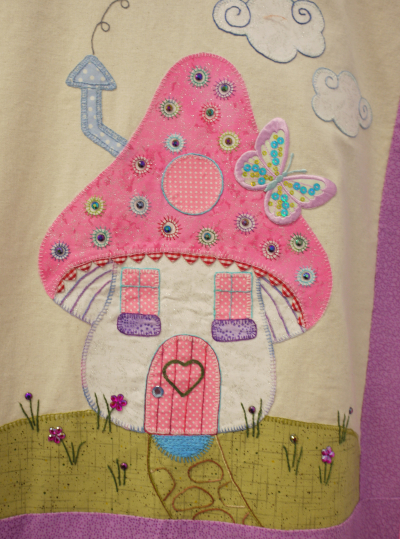 you may recognise this little girl ........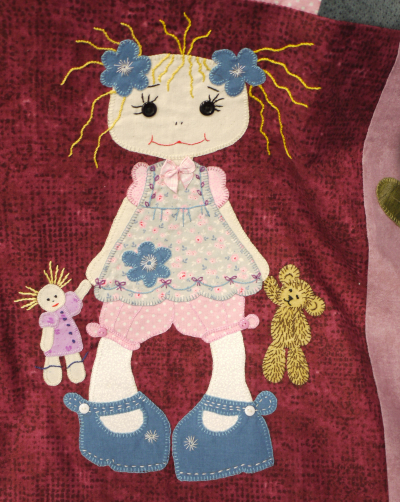 ....... and this one, as they are similar to the fabulous little girl she gave me for my birthday last year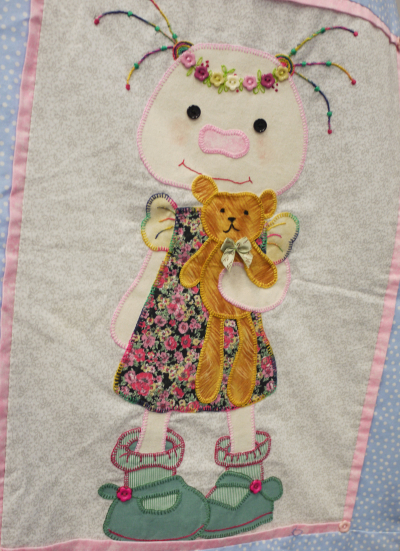 I guess this frog is waiting for the princess to kiss him - he already has his crown for when he turns into a handsome prince!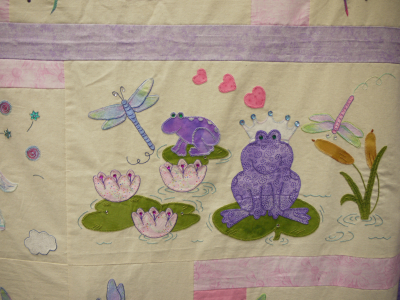 and now for something completely different to finish ........ Maureen had emailed my to ask if I would like a courgette from her garden - and would I like a long one or a round one.  I replied that I would like a long one, as I would probably spiralise it.  However, I won't be spiralising the one she gave me - I have put my reading specs in the photo to give the scale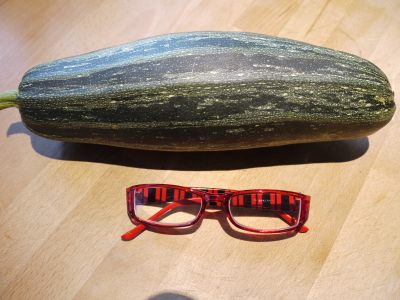 she also gave me a round one ....... I shall have to have a hunt through my cookery books for a recipe for this one - perhaps scooping it out, stuffing it and baking/roasting it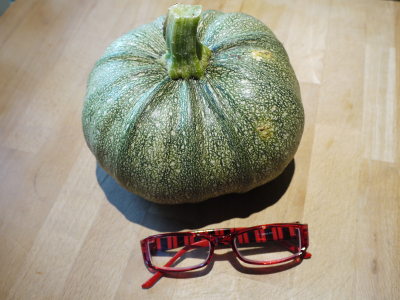 I have had a fabulous day out today - I shall tell you about it tomorrow!