As all my sewing for the exhibition is finished, I thought perhaps I ought to deal with a bit of mending.  This is my absolutely favourite skirt, although it isn't perhaps shown to its best advantage on the mannequin, who is somewhat smaller and skinnier than me (the skirt is pinned at the back so it doesn't fall off!)
I like the skirt so much, I bought it in another colour - and that strange thing is, they both needed a little repair in the same place, where the lining was coming away from the base of the zip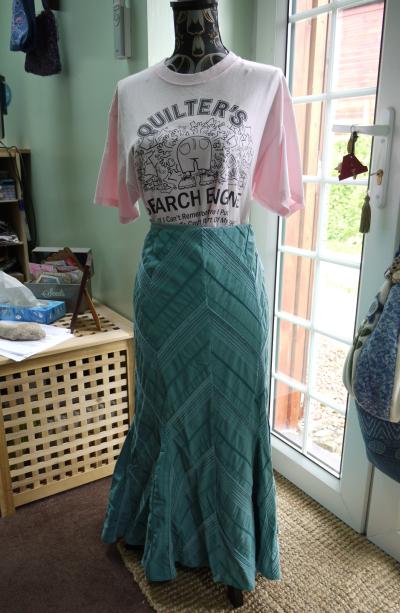 however, I decided to give up on repairing this cardigan - it keeps coming apart at the seams (a little aside, if I hadn't call the blog "frayed at the edge", I would have called it "coming apart at the seams"!).  So it will now be up-cycled/recycled/transformed into something wonderful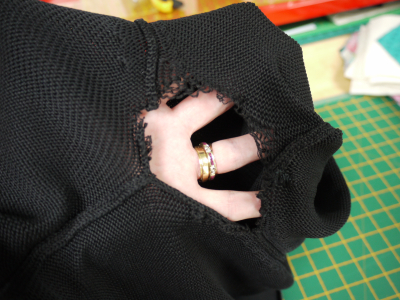 for some reason, I keep my mending in the scrap basket,  so once the skirts were repaired, I pulled out this pile of fabrics, and decided to have a bit of fun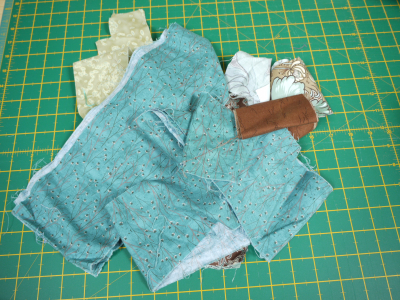 having cut random strips, I stitched them together
then having pressed the seams, I put the piece on the cutting mat, lining up a seam with the 45° line, then used two rulers to make sure that my first cut would give me a 6" square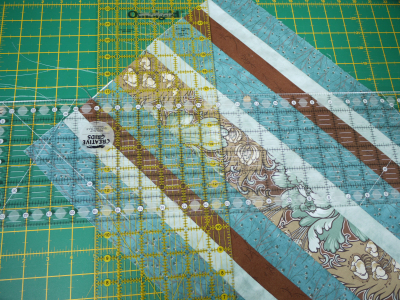 the first square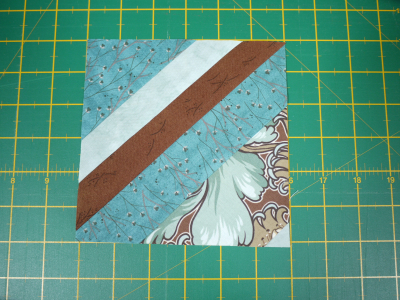 I cut across the rest of the piece, then cross cut to give me these squares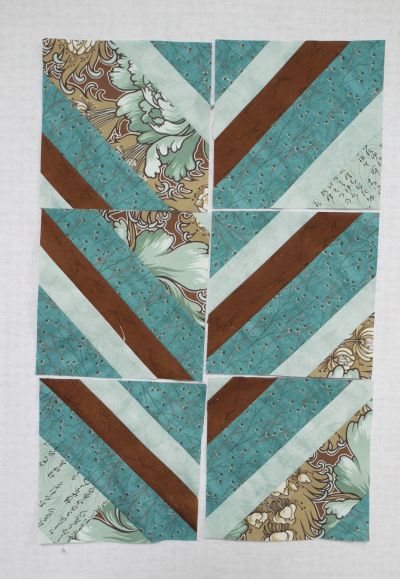 then with a bit of reworking of the trimmings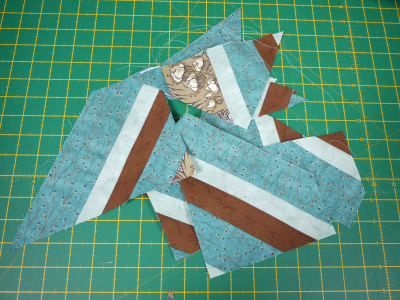 I ended up with nine squares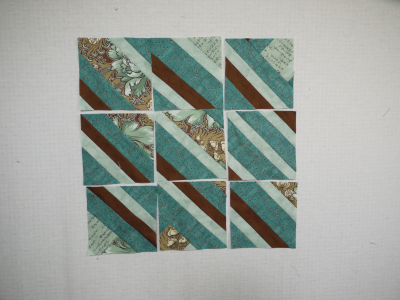 I had several strips left - would there be enough for sashing?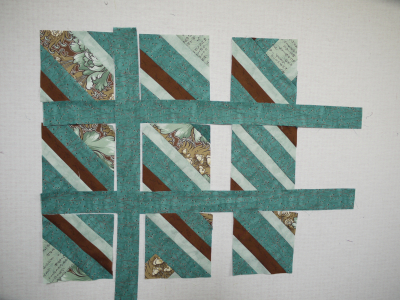 yes!  All I have to do now is decide what to do with the block!
I won't be here again until Monday, as I will be so busy tomorrow helping to set up the exhibition , and then helping out in the kitchen all day Friday (and Saturday).  And just in case I don't have enough to do, Stuart and Alison and their friends The Yates are coming to stay for the weekend!  So I think by Sunday afternoon, when they head off, I will be lying down in a darkened room for a rest, emerging in time to enjoy a chilled glass of white wine before dinner!