I decided to make turkey meatballs for the Fast Diet dinner, but when I did the shopping this morning, I couldn't get turkey mince, so I bought turkey steaks innstead.   I got out my big food processor, which  I bought it when we lived in Indonesia, so it is probably fifteen years old, and is still used regularly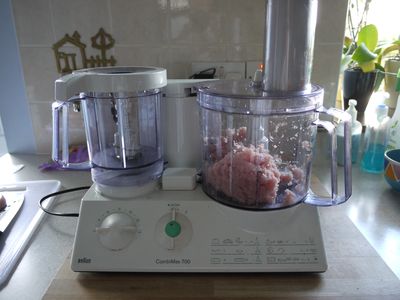 the recipe says to use dried oregano, but I decided to use fresh herbs - some from the garden and some from pots on the kitchen windowsill.  I got out the little herb chopper - just a little bit smaller than the proocessor!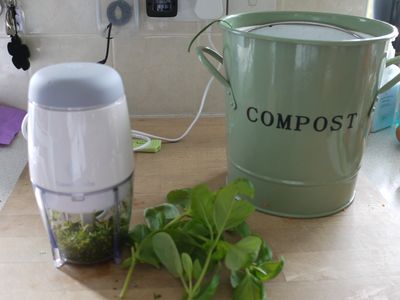 while the meatballs were cooking, I made the pear and chocolate jam.  First I cooked the pears with lemon juice and sugar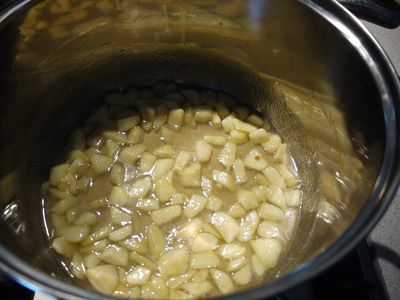 then stirred in the dark chocolate.  It doesn't look parrticularly appetising ....... but does it taste awesome or awful?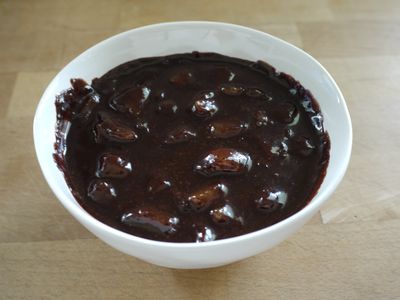 and the verdict is ....... DELICIOUS!!  Malcolm, who doesn't really like dark chocolate, also thinks it is good, although I don't think we would eat it on toast for breakfast!  There is a recipe in the book for a speedy tart - make a shortcrust pastry case and blind bake it (if you want to be really speedy, use a ready made one) spread it with some pear and chocolate jam, then arrange slices of poached pear on top.
It was only when I added the eggs to the meatball mixture that I remembered that the last time I made them, the mixture was a bit sloppy.  If the recipe had been in a book, I would have put a note on the page, but a post-it on the screen of my Kindle would be annoying!!
On Saturday I spent the day at Borderland Fabrics working on quilts for Linus.  The day got off to a good start when we were treated to delicious sconnage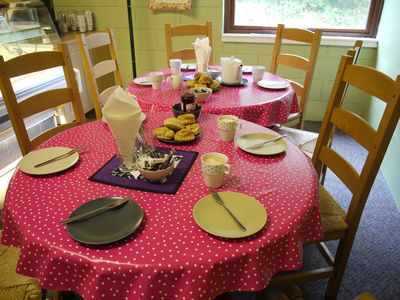 then we had a choice of soup for lunch - I had lentil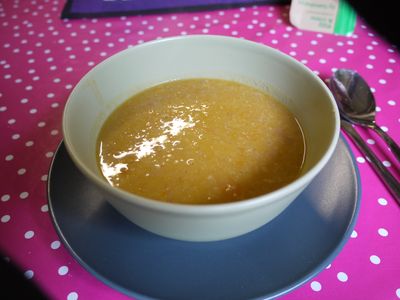 to make sure we didn't run out of energy, there was a big tub of chocolates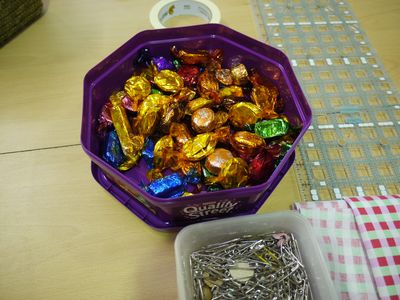 sorry, what's that you're shouting?  Oh, you want to know about my sewing!  Sandra, our wonderful "Linus Lady", had a pile of fabrics for us to use.  I chose these four, and cut them into two sizes of strips - there was enough fabric to cut strips for two quilts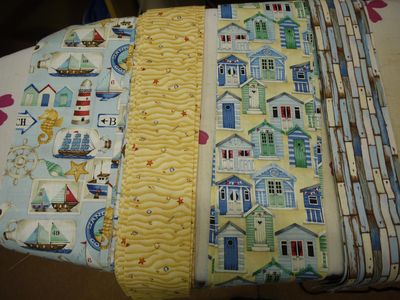 I didn't take my sewing machine, as Annette had said that I coud use one of the demonstration machines that she has in the shop.  I was slightly nervous when she gave me a brand new, unused machine!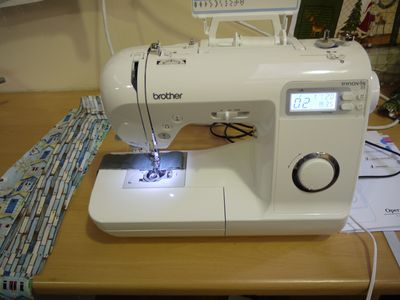 the first batch stitched into blocks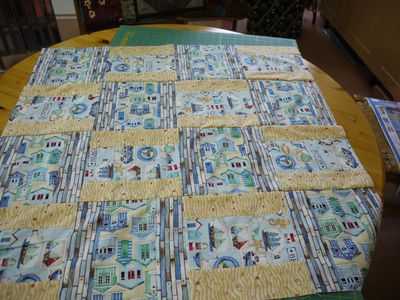 I still have an outer border to add - it was good to have some sunshine to take photos this morning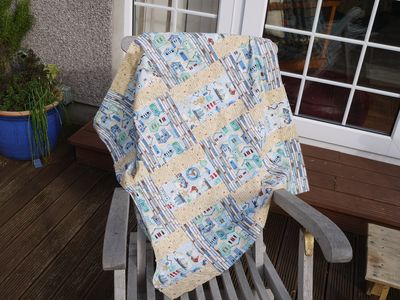 I didn't have time to work on my knitting through the week, but added a few more inches over the weekend.  I had a trial run at stuffing the tube, and rolling it up.  I have decided to make the rug oval, rather than round
we went for a wlk along the River Teviot yesterday, hoping to find some sloes, but alas there were none to be had.  However we did see these two elegant swans ........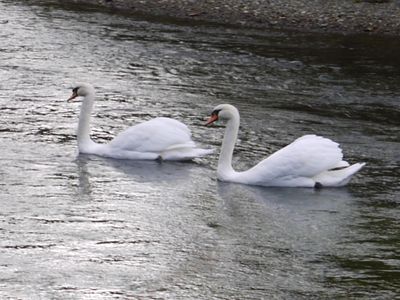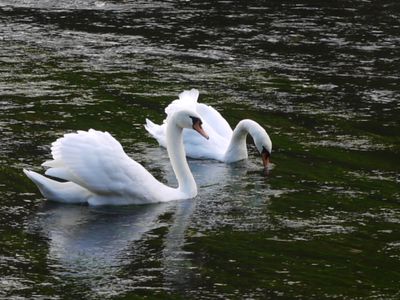 autumnal scenes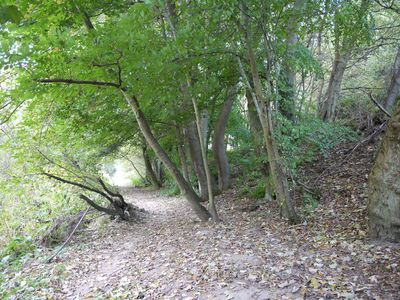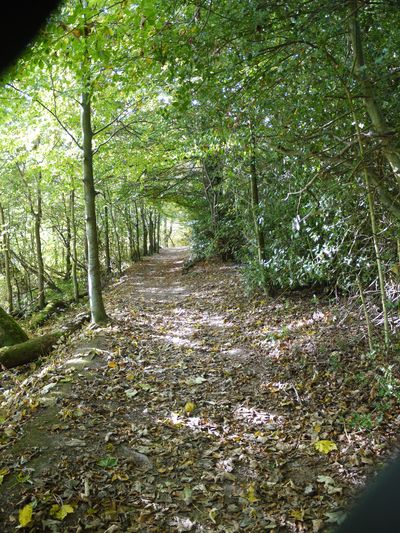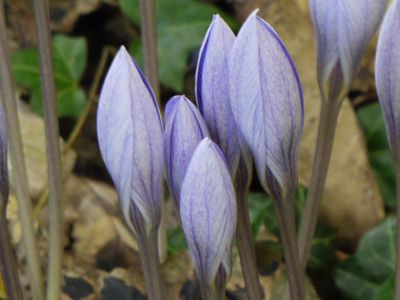 handsome fellows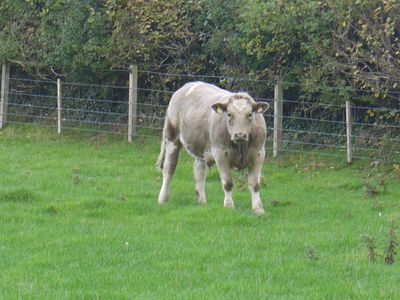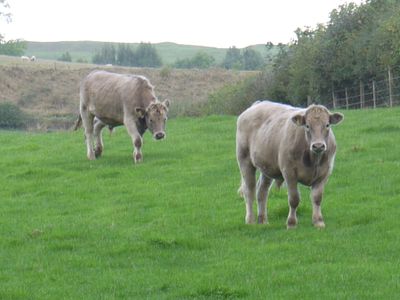 and of course, arty seedheads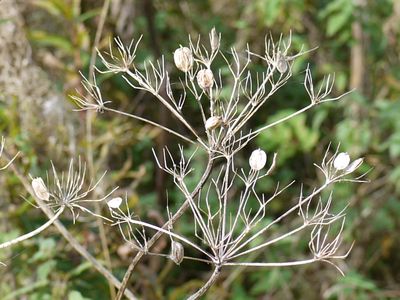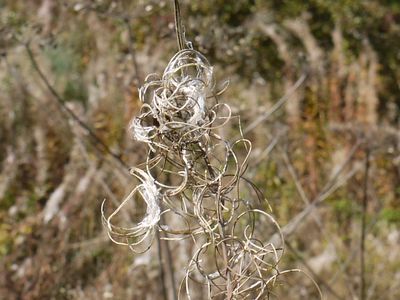 to console ourselves for the lack of sloes, we headed off for some sconnage.  I had gone to wash my hands, and when I came back, Malcolm had already cut up the fruit scone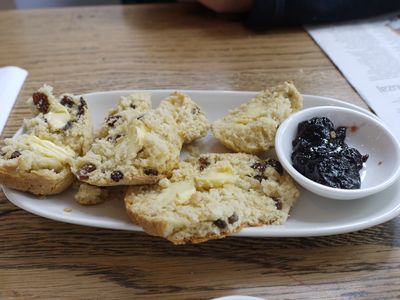 it was delicious, as was the cheese scone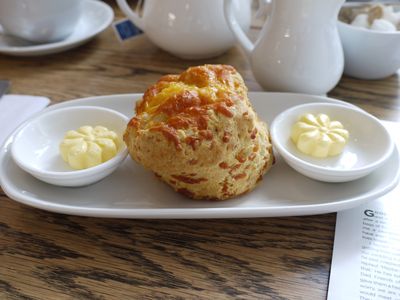 to finish - when I was busy in the kitchen this afternoon, I had the tv on.  Do you recognise this blast from the past?