We left the house just before 8am, to head for the village hall in Lowick, in Northumberland.  I had been invited to teach the ladies of Lowick Quilters my textured applique workshop.  We got there early (as always), so I had plenty of time to get everything unpacked before the ladies arrived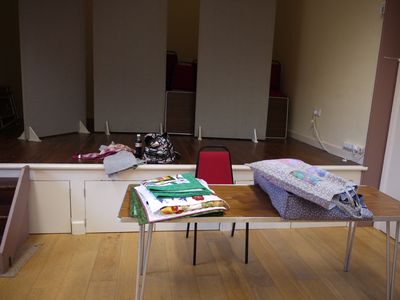 you know by now that wherever there are quilters, there is also food.  I had a cup of tea and half a scone before we even started!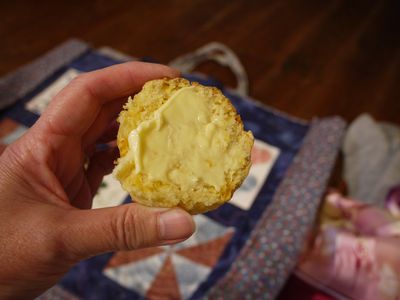 once all the ladies arrived, we got underway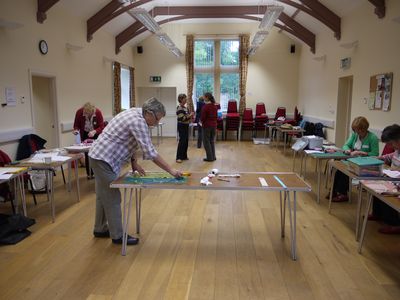 we started with the ruched flower, and Karen was the first to finish one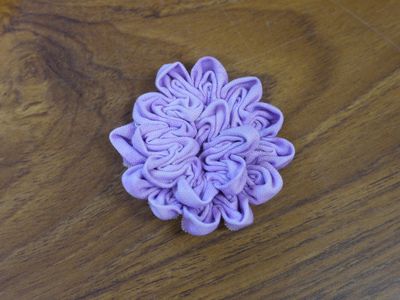 after a reasonable amount of sewing had been done, we stopped for a cuppa.  It was Mary's birthday, and she had brought a cake to share - the most wonderfully moist and delicious carrot cake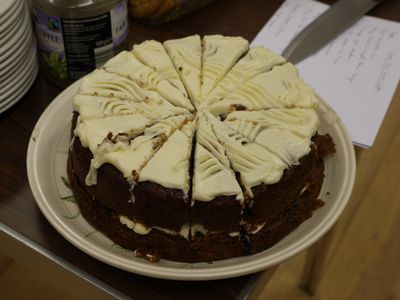 during the teabreak, we had the chance to chat and to look at everyone's flowers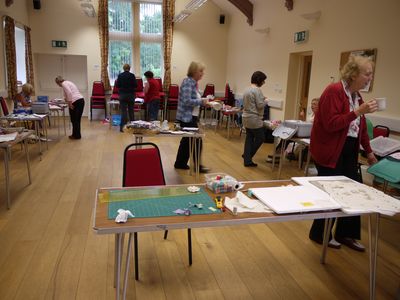 Kathryn likes a bit of bling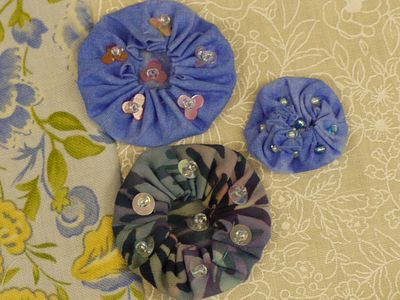 Carol rapidly produced pretty flowers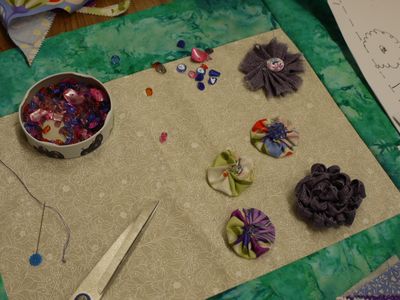 this is Rosemarie's frayed flower ......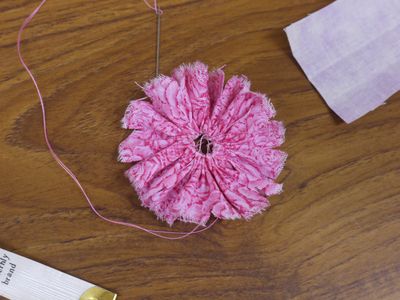 ....... and this is Karen's.  She made four flowers and layered them together (I told her I would be stealing that idea!!)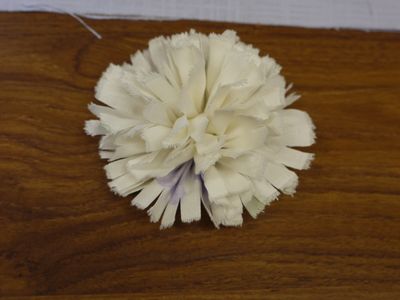 when I made the samples in calico earlier in the year when I taught the workshop at Abbey Quilters, I said that I would like to do a full wallhanging in one colour, so last week I looked out a box of cream-on-cream fabrics, and set about creating a quick version.  Instead of hand applique, I used fusible web to put the bowl and leaves on the background, stitched round the raw edges with a contrasting thread, and machine quilted the background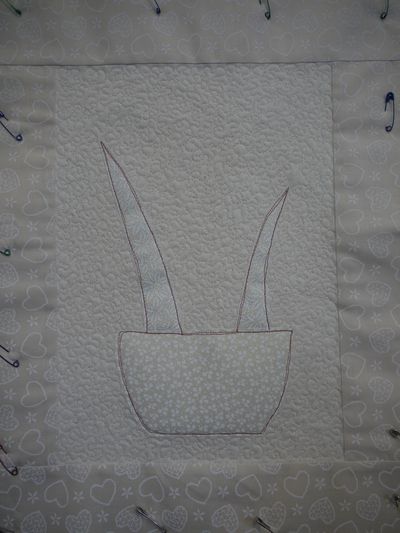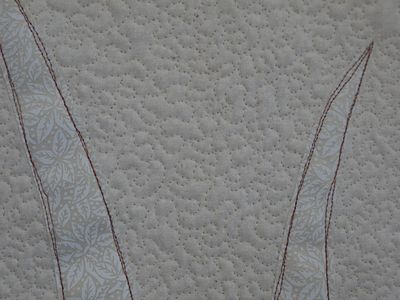 I also decided to make a couple of new flowers, from the book that I bought at Harrogate.  The first one was really simple.  You start with a 2" square, and fold it in half diagonally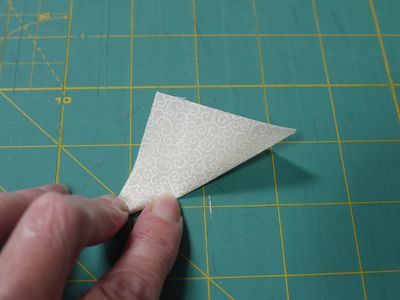 then fold it again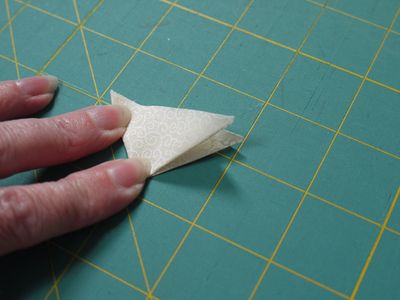 stitch across the raw edges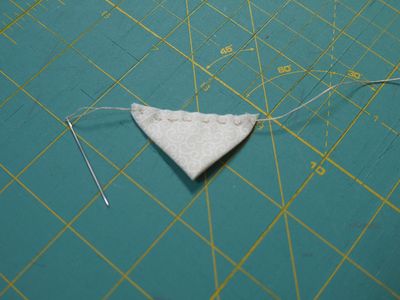 add another four pieces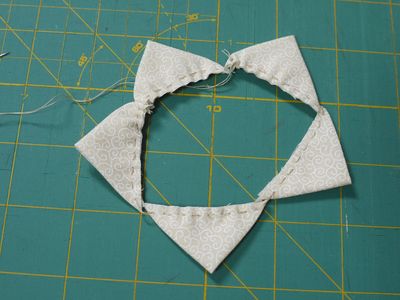 then pull the thread tight to form the flower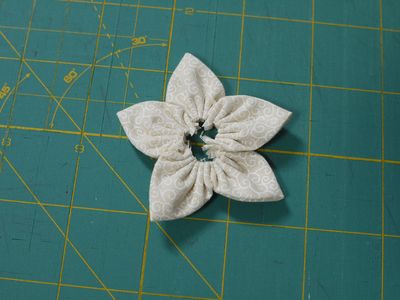 for the other flower I sewed two strips together, with one strip half an inch wider then the other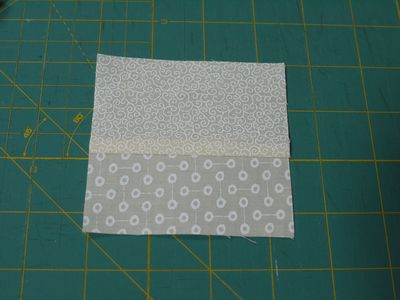 when folded over, this gives a decorative edge.  The strip is then folded like this
I stitched three together to make a large flower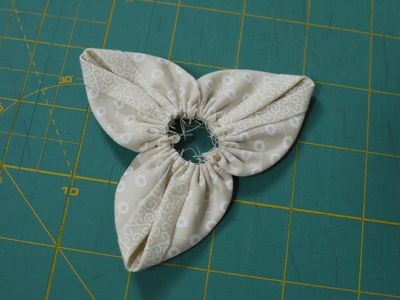 the new version of the wallhanging (it will need a few more flowers)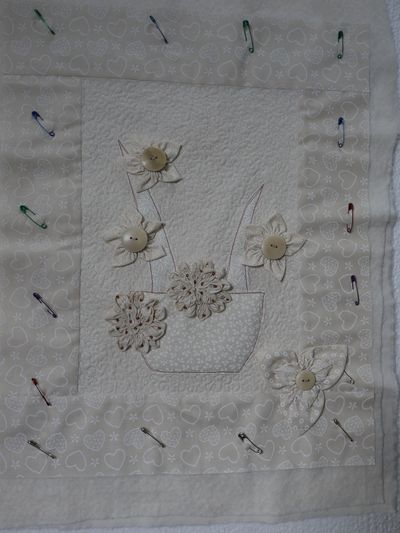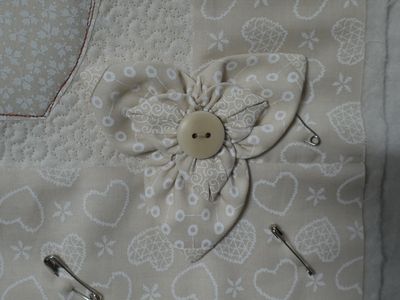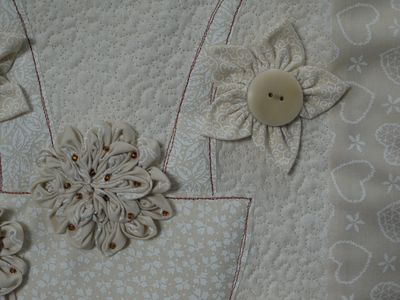 as the fabric requirements for these new flowers weren't on the list that the ladies had been given some weeks ago, I gave each of them an envelope with the pieces to make one of each flower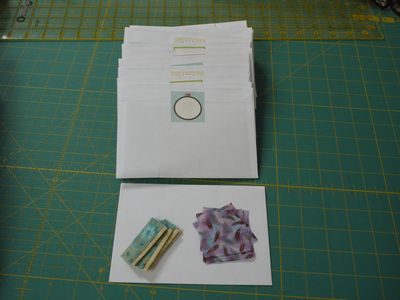 I have several more photos, but I am running out of time, as I will be leaving shortly, to head to Jedburgh to pick up Maureen, then on to Kelso for the first evening of the new session of Abbey Quilters.  I also have some photos that Malcolm took when he was sightseeing this morning.  So I'll finish with lunch, which we had in this lovely tearoom in Etal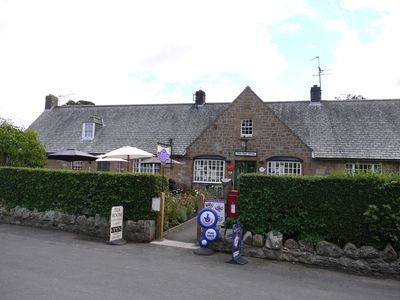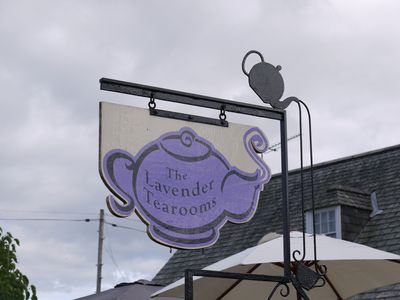 Malcolm ordered a tuna melt toastie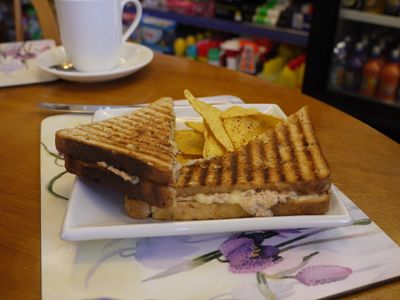 and I ordered corn beef and pickle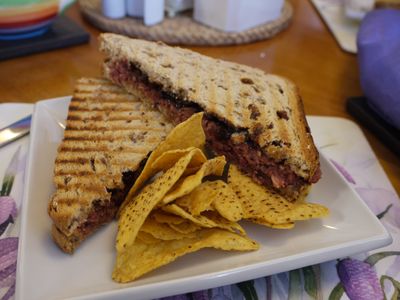 then, as we often do, we swapped a half.  I just have time left to show you the wonderful teapot and jug - I wish thhe cup had been stripey too!!