Remember I showed you the last scrappy bit of the wonderful Australian fabrics that Lee gave me for my birthday?  I can show you now what I made, as Lee has received the little parcel I sent her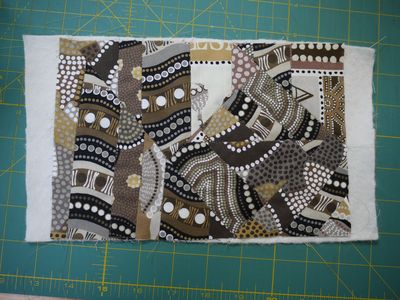 you can see the quilting on the wrong side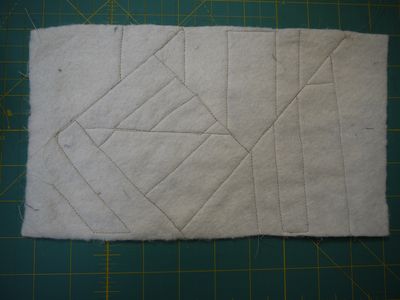 I trimmed it to size, then sewed a piece of fabric on one of the long sides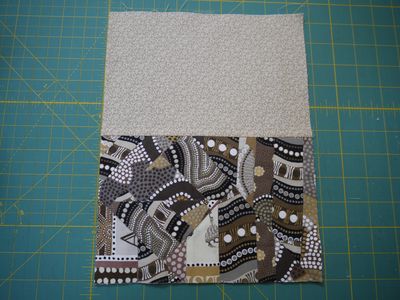 I then folded it in half and stitched it to form a tube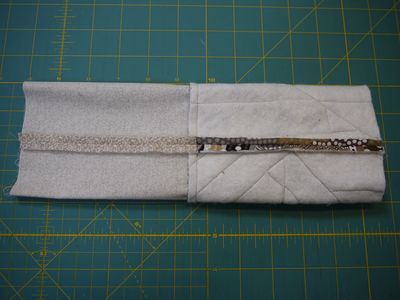 the next bit is fiddly, as you have to fold what will be the inside over what will be the outside (did you follow that?), then stitch across the bottom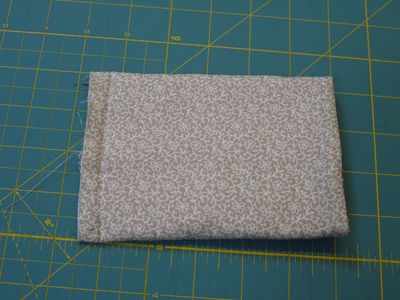 the last stage .... turn the little bag right side out.  I thought Lee might keep her sunglasses in it, so I popped my glasses in to let you see what it looks like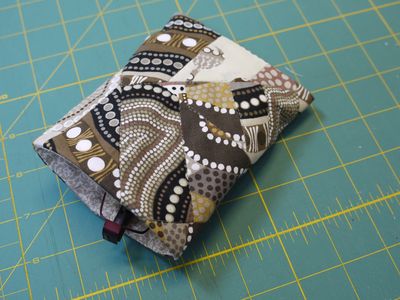 I added a pretty gift tag, and one of the cards that I had made with photos from our wonderful Autralian holiday
when Lee emailed me to say that the parcel had arrived, she said that the little bag was the perfect size to keep her camera in, and that every time she uses it, it will be a lovely reminder of the time we spent together, just as every time I walk through the hall and see the runners and cushion, I too think of our wonderful time in Sydney
today at patch'n'chat, a new customer came into the shop.  We quickly realised that she was a visitor (the American accent was a clue!), so we promptly set about cross-examining grilling asking her who she was,where she was from and what was she doing here.  The answer was Vicki, Chicago, and that she is here for a month's holiday.  She has been here, there and everywhere ...... you can read about her adventures here.  As a fellow blogger, she was happy to pose for a photo!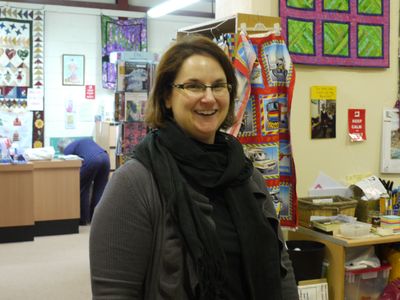 Kay was in this afternoon, delivering finished quilts nad collecting more quilts to longarm quilt.  I gave her Notes of Love, and other than saying I would like a heart quilted in the centre, I have left it up to her to decide how to quilt it.  She had brought in Jen's quilt, which is stunning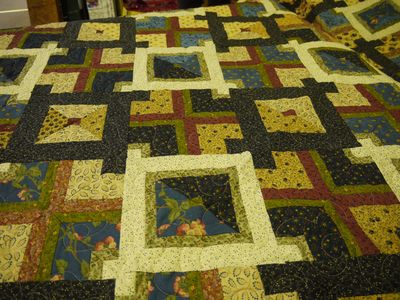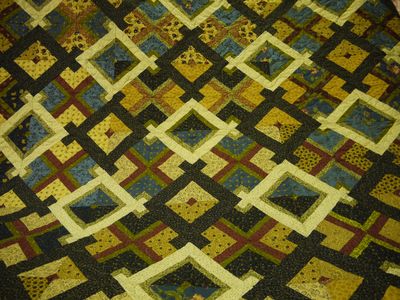 and if Jen wants a change, she can turn the quilt over to the other side, which shows off the quilting pattern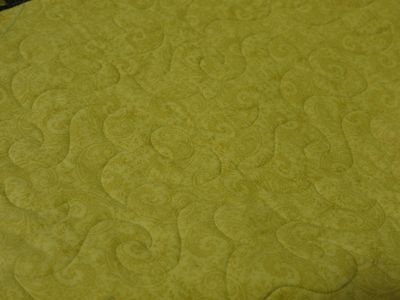 we had already invited Vicki to join us for lunch, then we mentioned that she might want to spend the rest of the afternoon with us, so that she could then join us for a cuppa and CAKE (oh yum, our favourite appe and sultana!)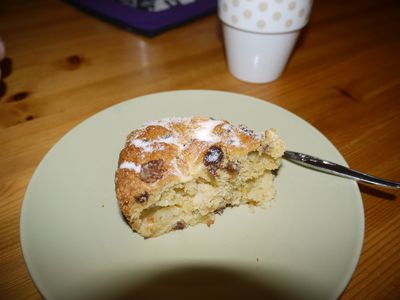 you know I like something silly to end with ....... just before Christmas, a family of assorted owls took up residence in the yucca  (I don't think three is enough to qualify as a Parliament)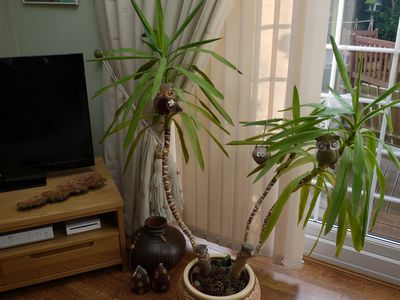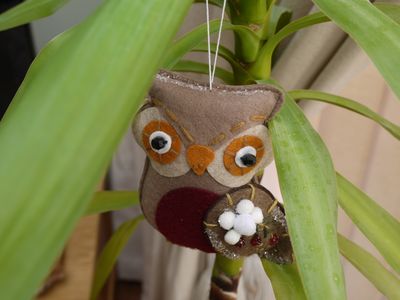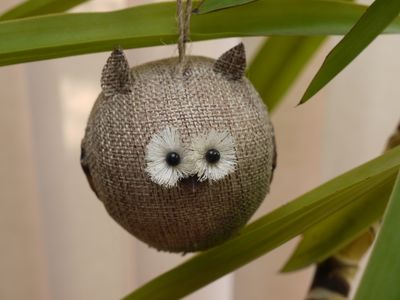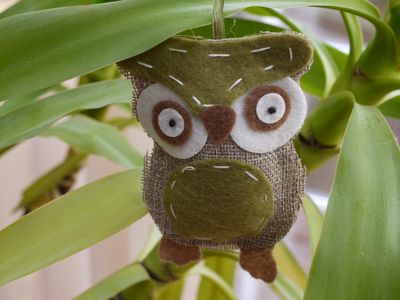 after Christmas, I suggested to the owls that they might like to go back home (the box in the loft) but they said they would be quite happy to stay in the back lounge, with their new BFFs, the Gnome Sisters .....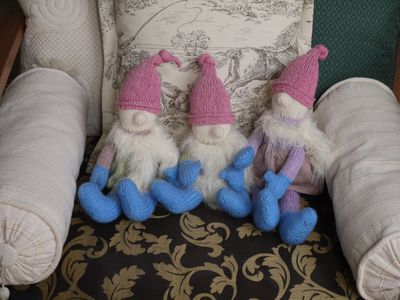 ........ and the Gnome Brothers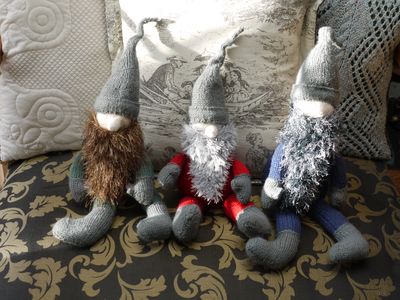 did you notice a little bit of sunshine in that last photo?  There was even more in the kitchen this morning, shining in through Malcolm's study window.  Unfortunately, the sun showed up just how dirty the window is - it is by far the dirtiest window in the house ...... perhaps because it looks out into the neighbours' backyard, home to 3 dogs, 7 cats, 2 ferrets and a horse ........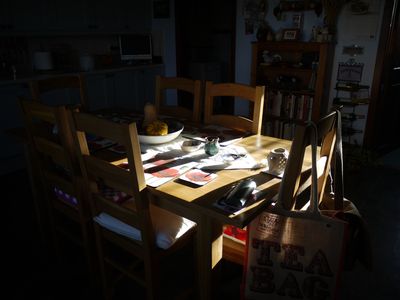 hopefully the weather will be good on Sunday and we can get out for a proper long walk, instead of a quick stroll!!  Having finished the month of using up scraps, Lucie and I plan to spend February finishing UFOs, so I will be making a start to that over the weekend.  Whatever you have planned, I hope you have a wonderful weekend, love Anne