I was getting worried, as I only had one orchid left in flower in the kitchen ..... and it had shed all but one of its flowers!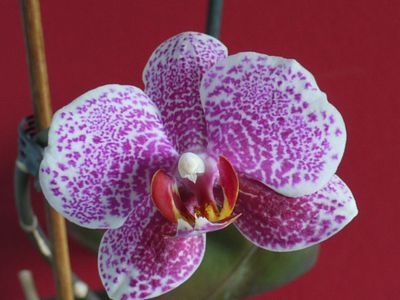 this one is about to flower, but probably not before that last flower drops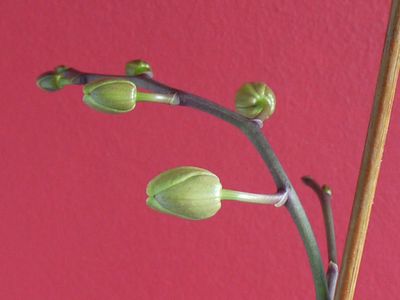 but then on Saturday morninng we were in Homebase, where they not only had orchids on special offer, but they were also having one of their periodic 15% off everything days ...... so this beauty came home with me for less than £7!!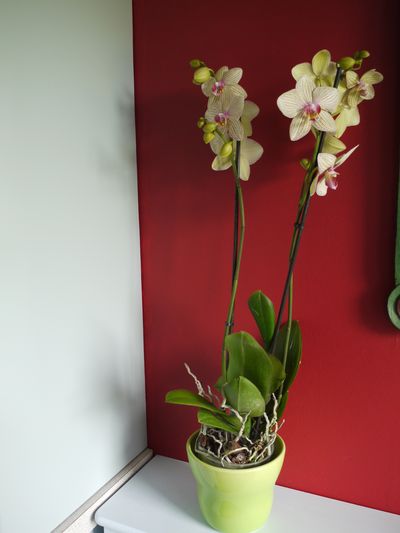 on Saturday afternoon I traced all the pattern pieces for Oh Christmas Tree (which from now on to save time I will simply call Tree) on to Bondaweb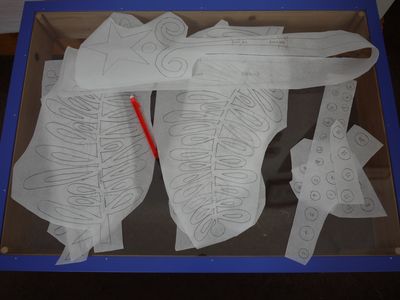 and laid them out on the fabric
but I kept getting diverted by Serena powering her way to a gold medal (it was difficult to get a photo of her after she won, as she kept leaping about!!)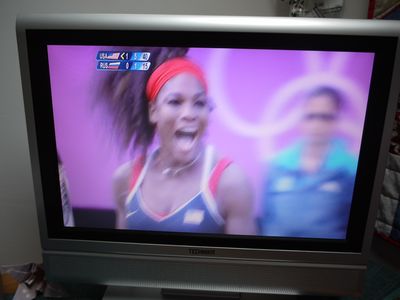 we had planned to go to Berwick yesterday, for the last day of the Arts and Crafts Fair, but we got up to thunderstorms and torrential rain - you might have seen the flash flood in Jedburgh on news bulletins. So instead we went to Melrose, and consoled ourselves with this rather large scone!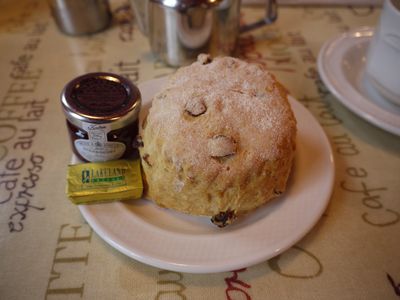 back home, it was on with work on Tree. I ironed on the Bondaweb, then came the very long job of cutting out the intricate shapes, including cutouts on some of the branches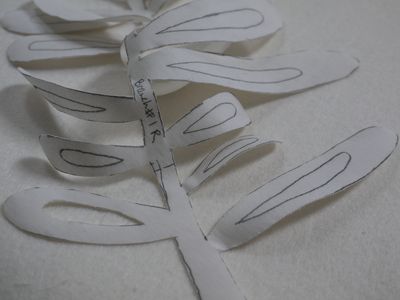 but eventually they were all done and laid out on the backing fabric, except for the circles .... I'll place them once the branches have been ironed on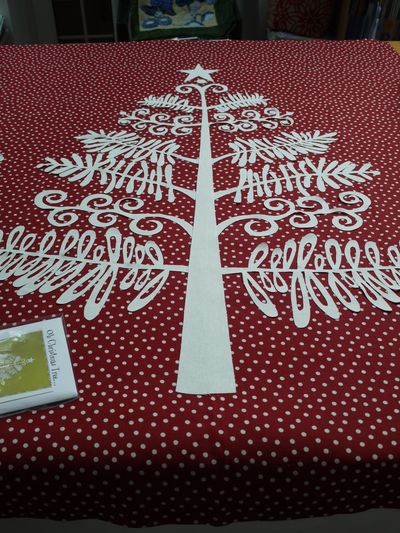 of course I was distracted as I watched Andy Murray beat Roger Federer. When he won, I ran, screaming and yelling, from the studio, to meet Malcolm, who had come running from the house, in the middle of the garden, where we jumped up and down celebrating!! I was so excited, I forgot to take a photo ...... and then forgot again when we celebrated his winning a silver in the doubles with young Laura Robson. I'm not particularly interested in sport, but I have been cheering on all our Olympic competitors ...... and have become an instant expert in all sorts of events!
Regular readers know that I don't like cats (sorry, they just give me shivers!), but even I couldn't resist one of the next door neighbour's seven cats (!) sitting on another neighbour's wall
nor could I resist taking yet another sheepie photo ...... did it think I couldn't see it hiding behind the tree stump?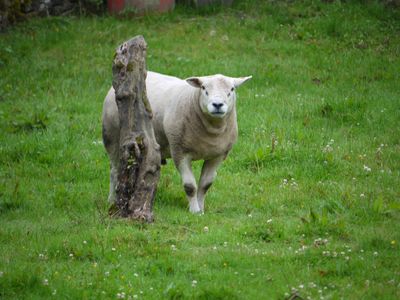 I was going to put my new shoes on this morning, but realised that my navy trousers, with which I was going to wear them, were in the ironing basket, so this afternoon I found yet another rerun of Murder She Wrote on tv, and .......what, you want to know about the new shoes instead of Jessica's clever solving of the dastardly murder! Well, on Saturday morning we were passing the shoe shop in Hawick, which is owned by our new neighbours David and Jackie. We saw Jackie in the shop, so popped in for a blether. While we were chatting, I, of course, had to have a look at all the lovely shoes in the sale - and this pair just jumped on to my feet!!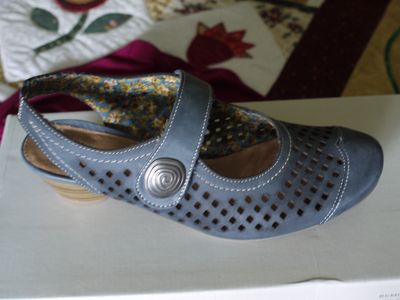 Late this afternoon, Malcolm noticed these birds sitting on the phone wire in front of the house. I took this photo through the lounge window.....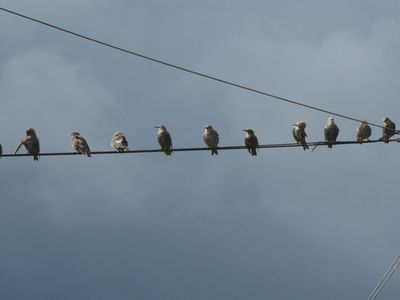 ....... then rushed through to the kitchen to put the long lens on. I then took the other photos through the front door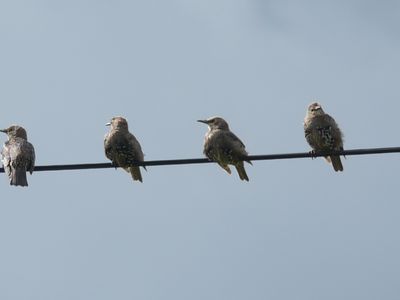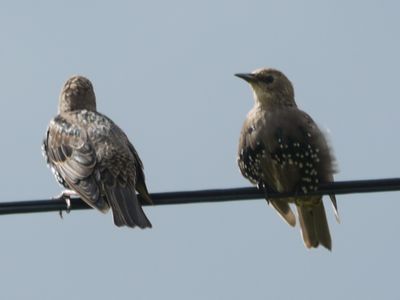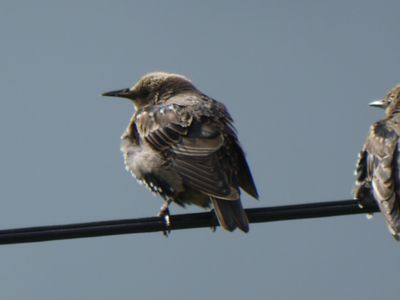 I have been through both of my bird books, but I can't find anything resembling them. They were quite big, probably about the size of a blackbird, with markings on their fronts like starlings, and patterns on their wings like sparrows. I hope you can identify them for me!