...... and my poor legs!!  I must have walked for miles today, helping to set up Abbey Quilters exhibition.  But the thing I find most tiring is constantly going up and down stairs ...... having lived for most of my life in houses with no stairs,  my legs don't half complain when faced with mutliple trips up and down!  There is a lift in the building, but it's a very small thing, which is really just a platform which goes up and down (there are no internal walls, just the outer lift shaft).
Unfortunately my camera battery ran out, but here is a selection of the photos that I took.  I'll have more tomorrow, showing you the whole exhibition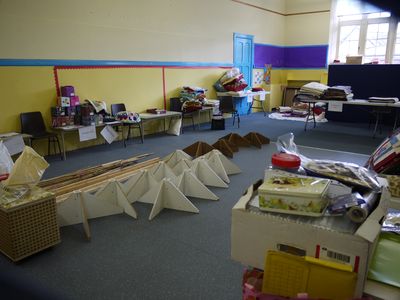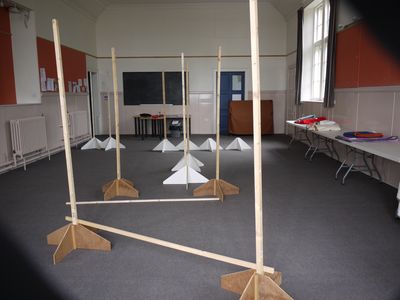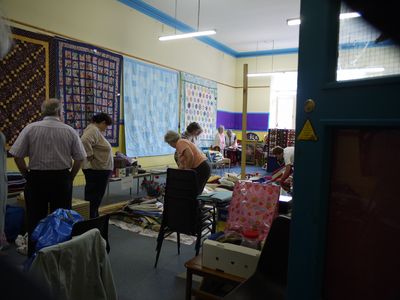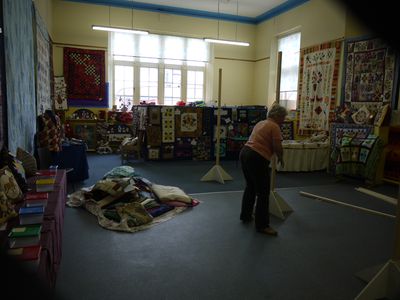 The next three photos are of the colourful display of Linus quilts, which have been hung in the coffee shop.  It is always wonderful to see the amount of work that the makers put into these quilts ..... and their generosity in donating them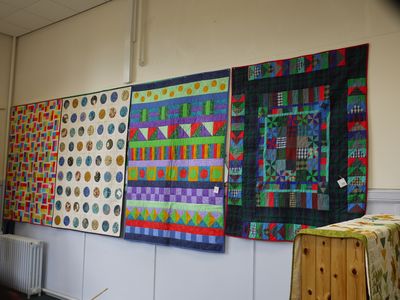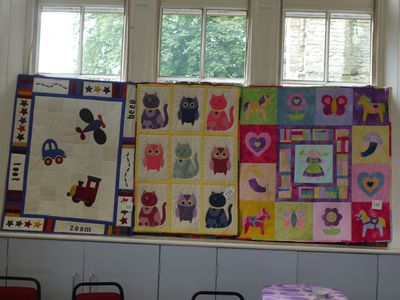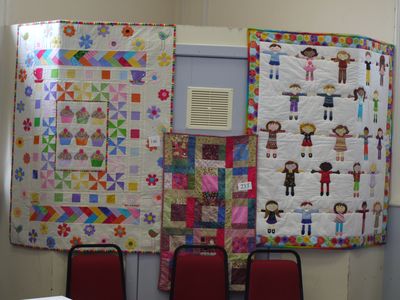 I did take another three photos this morning, which I can't show you, but I can tell you about them.  During the morning, a woman came into the room I was in, asking if anyone had a camera.  When I said I did, she asked if she could borrow it, as hers wasn't working. Ah, well ..... I wasn't going to hand over my camera to a stranger, but I said I would be happy to take the photos for her - and I am so glad that I did.  I went with her into the Adult Learning Room, where three students were being presented with certificates, having completed an Adult Learning Course.  It was lovely to see their delight at receiving their certificates, and share the happy moment.  I have already emailed the photos to the delightful Laura, the Adult Learning Worker.