Malcolm was delighted to receive so many comments yesterday - could this be the start of a new hobby?
After handing over the blog to him yesterday, I have some catching up to do, starting with Saturday. When I left the Quilt Exhibition on Saturday afternoonn, I was a bit annoyed to see that there was a major hold-up in the traffic. However, I stopped being annoyed when I found out the cause ........ Kelso Civic Week parade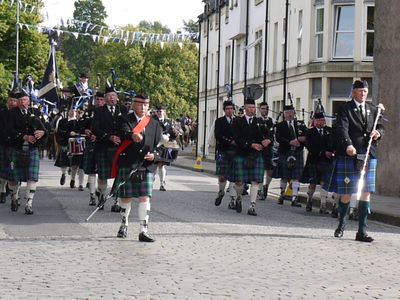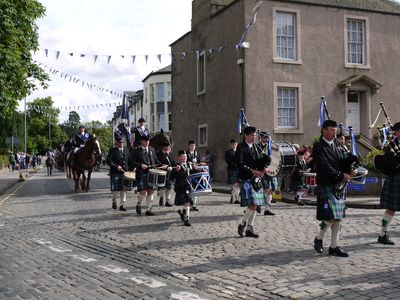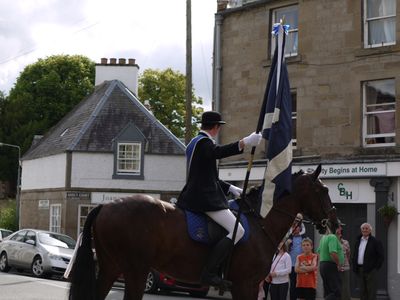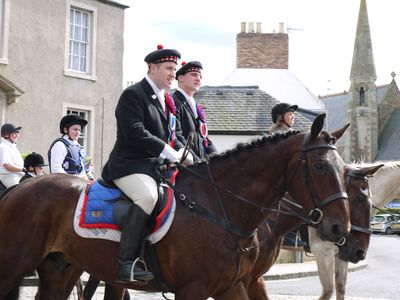 the star of the parade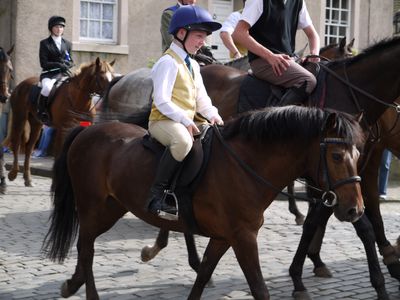 Yesterday morning I headed out as usual for my walk, although it was a bit grey and wet. These sheep were sheltering against the wall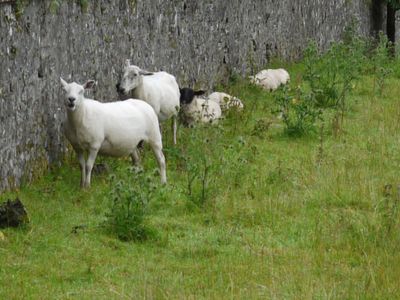 but the crows and seagulls were busy pecking through this field, which has just been cut for hay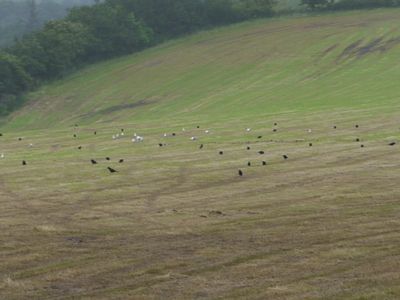 Yesterday afternoon I was busy making jam and chutney, but as it's for next month's Southdean Show, I can't show you the results yet!
This morning was grey and wet again - and it got steadily wetter. I was dripping by the time I got back home! The church looked quite eerie in the mist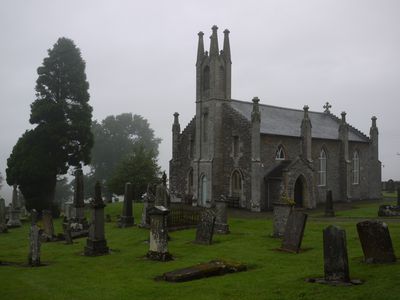 However these cows weren't bothered by the rain
I had just taken this photo .......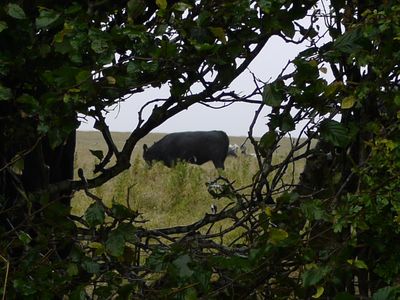 ....... when this curious cow popped its head into the hole in the hedge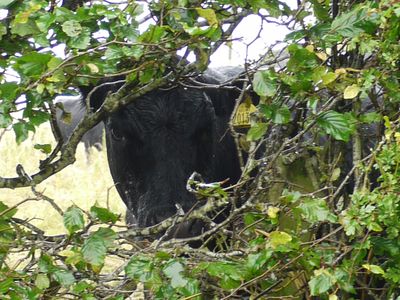 I have been busy working on Twas the Night before Christmas. On Sunday I pressed and trimmed the stitcheries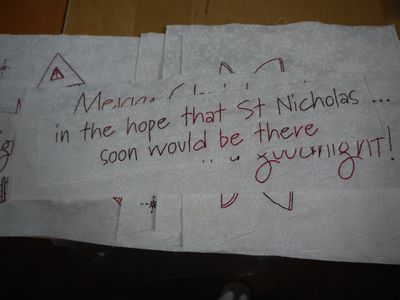 and ironed the fabrics for the blocks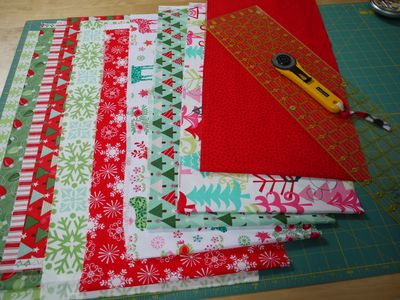 Today, I cut strips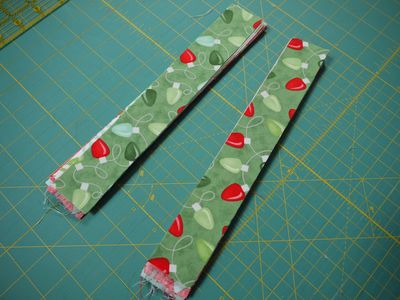 and stitched them together in sets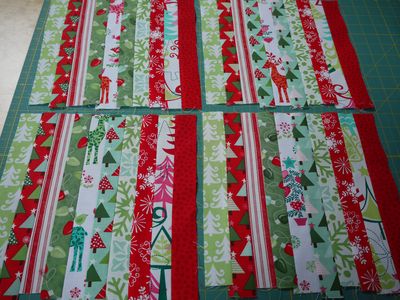 I then cross cut these sets and joined the resulting strips into ones of varying lengths, which will frame the blocks and go round the edge of the quilt

Next I had two blocks to make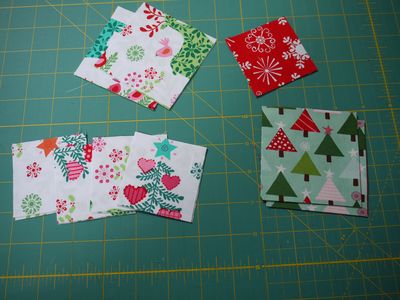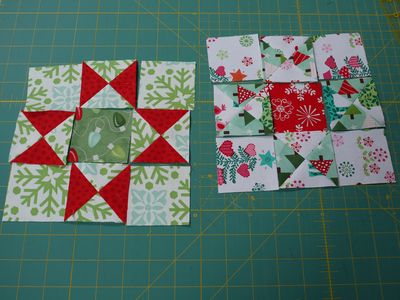 The next stage is to make foundation pieced blocks, which is possibly my least-favourite method. Just in case I get some wrong (it has been known!), I photocopied one of the pattern sheets, so that I have spares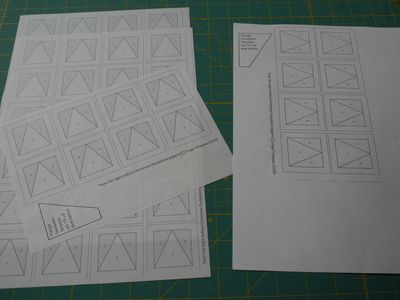 When I am out for my morning walks, I quite often stop at the field gate just past the church to take photos of the Mintos and the Eildons. However, on my way out this morning, this was the view - or rather lack of view
it had improved slightly on my way home - I think the rain had washed the mist away!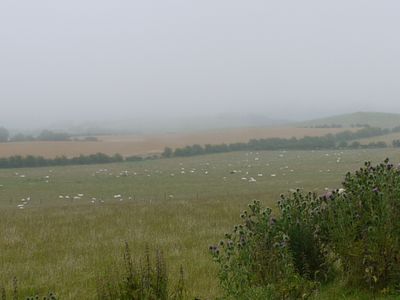 but this was last Tuesday ...... just a slight difference!!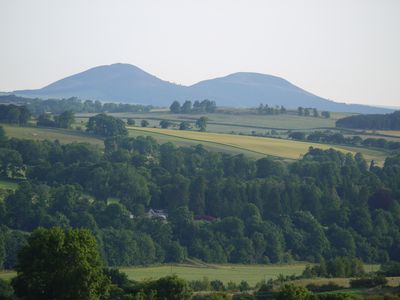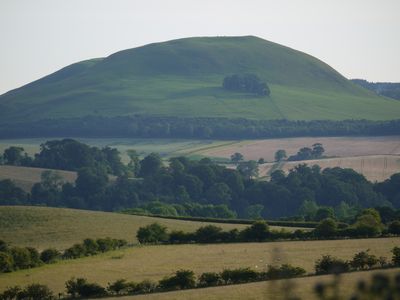 When I was sewing this afternoon, Malcolm stuck his head in the door and shouted to me to come and see .........worms, worms and even more worms! The compost bin was full of them - we have never seen so many worms! This photo shows just a few of them