An easy peasy patchwork block
I first posted this tutorial in March of last year, but as there are now lots more of you reading the blog (thank you!),  I thought I would share it with you again.
First you will need two fat quarters of fabric - it works best with contrasting colours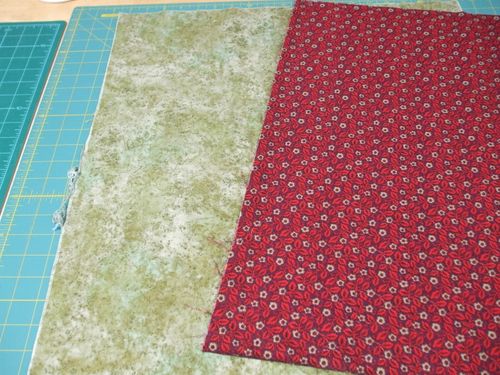 Iron the fabrics well - your cutting will be much more accurate without creases.  Put the fabrics right sides together, square on the board.  Cut a straight edge along the side that measures approx 21", then cut a strip 5" wide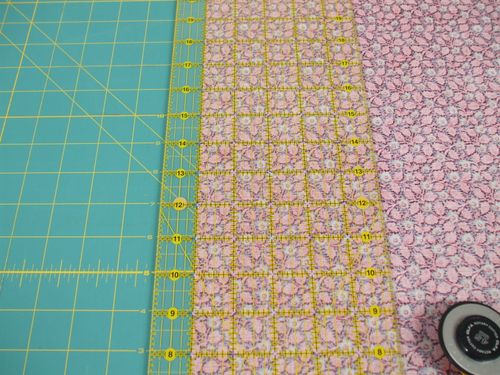 Then cut this strip into 5" squares - I've turned two over so that you can see the wrong side of both fabrics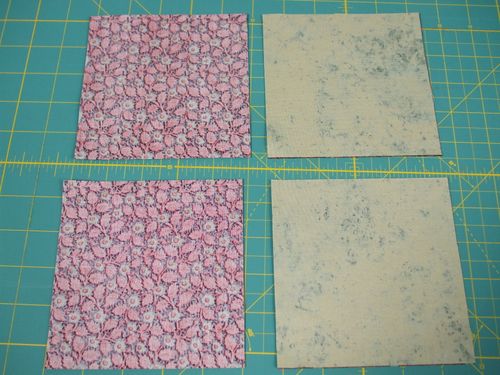 We are now going to start sewing, using a quarter inch seam.  I have a quarter inch foot on my machine - if you don't have one, you can either mark the seam line using a ruler and pencil, or measure a quarter inch away from your needle and put a line of masking tape on the throat plate to act as a guide.  We are going to chain-piece, which makes things quick and easy.  First, fold a piece of scrap fabric in half to use as a thread catcher - put this under the needle and sew almost to the edge.  Have your first squares ready to sew onto as you sew off the thread catcher - this stops the machine chewing up the edge with the first few stitches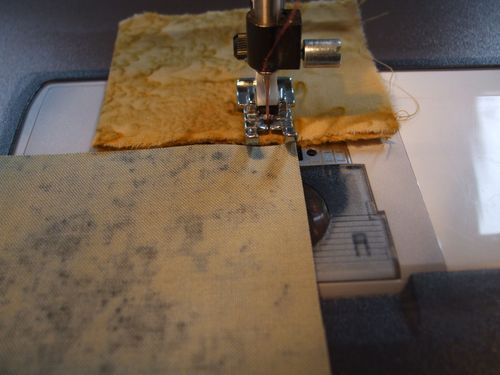 When you are almost at the end, have your next squares ready to feed in, and repeat with the others.  You will have a string of bunting!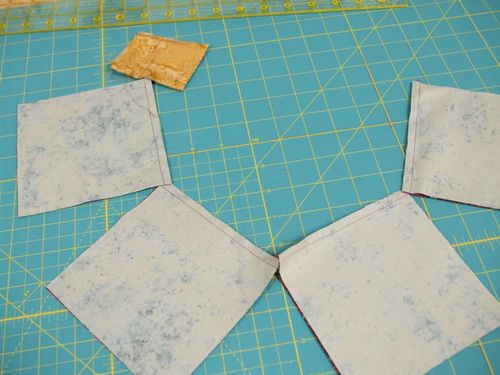 Cut off the thread catcher, but don't cut the squares apart - turn them round and sew the opposite side in the same way.  Now you can cut them apart, turn them round and do the other two sides .  You should now have four squares like this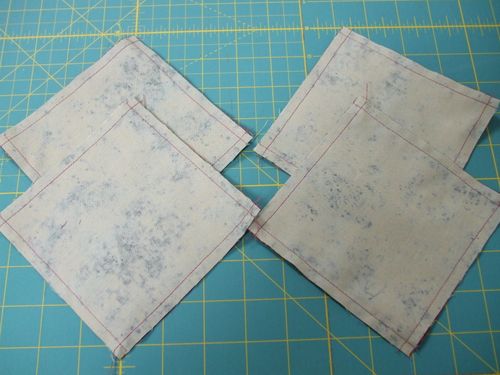 Now, I know that at this point you are wondering two things - first, why didn't I just sew round each square?  It's much more accurate to do it this way.  Second - I've sewn those squares together, that's not much use.  Don't panic - all will now be revealed!  Decide which of your two fabrics you want to be your centre, then on the other fabric, take a ruler and pencil (use a white pencil for dark fabrics) and mark both diagonals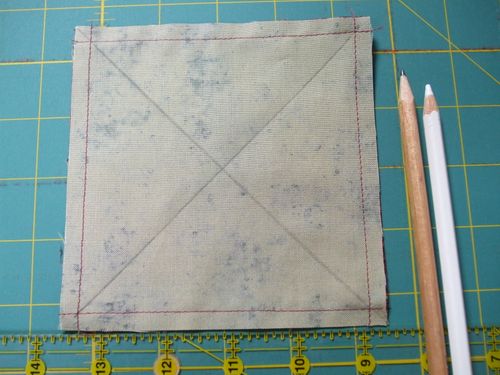 Now comes the tricky bit - you have to pinch the two squares apart, folding the marked square on one line ........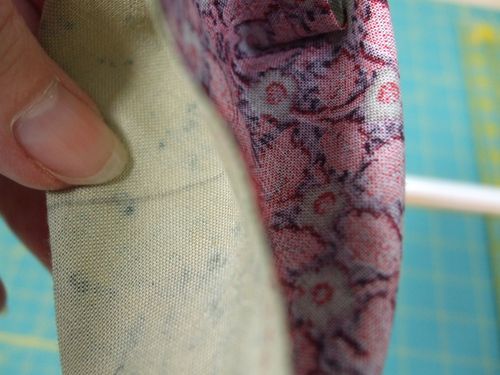 ....... then take your scissors and snip on the other line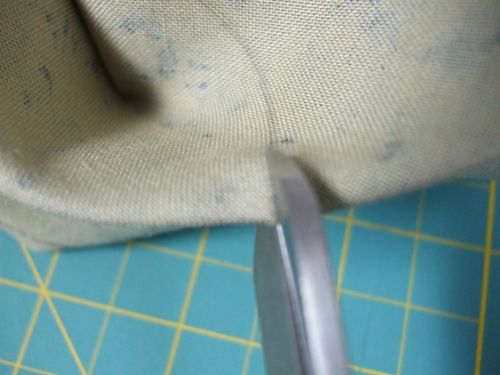 Now carefully cut along your two lines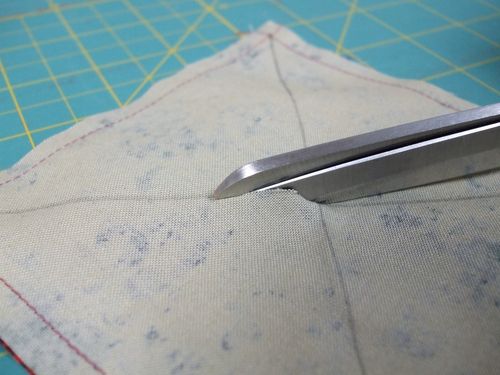 Open out the triangles and ........... you have made your first block!!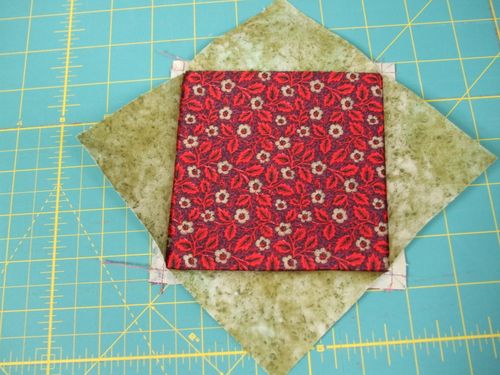 Next, you have to press the block.  Unlike dressmaking, patchwork seams are pressed on the right side, and are pressed to one side, not open.  In this case, flip the triangles over, so that the seams lie outwards.
Do it all again with the other three squares.  Now, you have to trim the blocks to make them square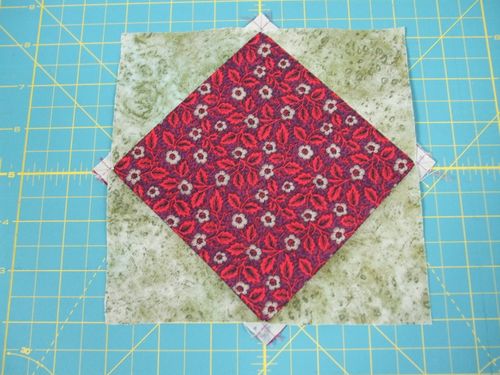 Can you see that I have centred the block on the thicker yellow lines - this is so I can trim an equal amount off each edge - trim the blocks to measure 6".  They will now look like this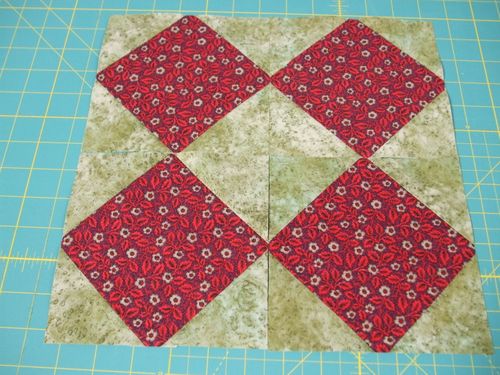 Now, go back to the fabric that you used for the centre square, and cut four 6"squares, and do it all again - sew the two squares together, mark diagonals, pinch, cut, press -and this is what you should now have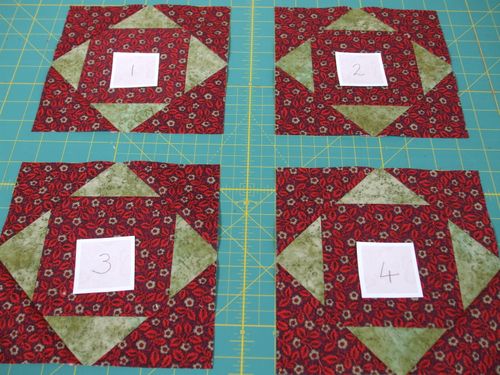 Flip block two to the left, on top of block one, and block four on top on block three.  Put a pin in the right hand edge, to remind you that's the edge to sew.  Sew the two edges and press the seams - remember to press them to one side - and this time press one to the left and one to the right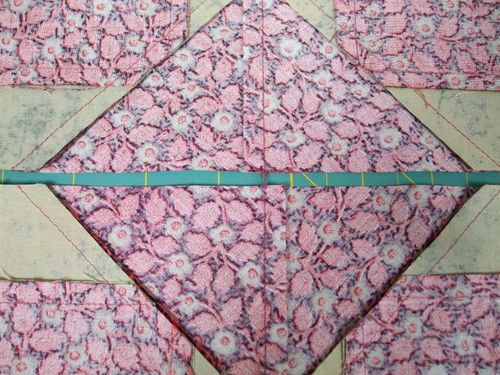 To sew the last seam - butt the two seams up, so that your stitching lines are matched up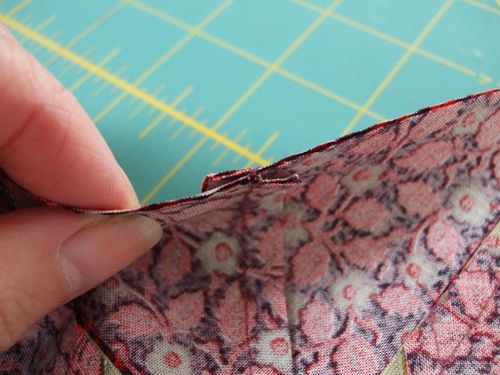 Pop a pin in to hold the seams in place (put the pin in at right angles, to make it easy to remove just before you sew over it).  Press your last seam .... and this is how your work should look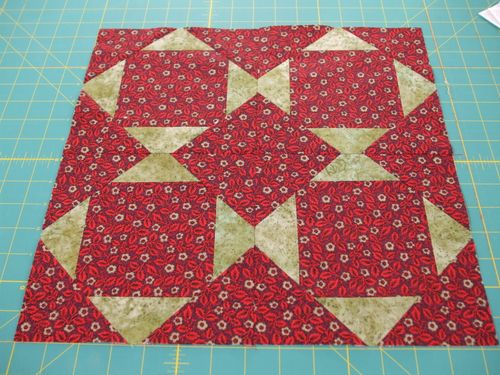 I hope this has inspired you to try some patchwork ....... this is a quick and easy way to get started.  In a few weeks time I'll show you how to quilt your piece, both by hand and machine and give you some ideas for using it.