This morning I drove up the A7 to Falkirk, and I have a very serious complaint to make about the people who build roads ..... don't they ever look at the scenery and think - oh look at that view, it is so wonderful, people will want to stop to take photos, we had better put in a lay-by!!  So there are no wonderful photos of the beautiful hills wreathed in the remnants of the early morning fog!
After lunch (carrot and orange soup at the local garden centre),  I had a quick tour round Falkirk to take some photos for tonight's post.  First stop was the site of the former Carron Iron Works, where the only thing left is the clock tower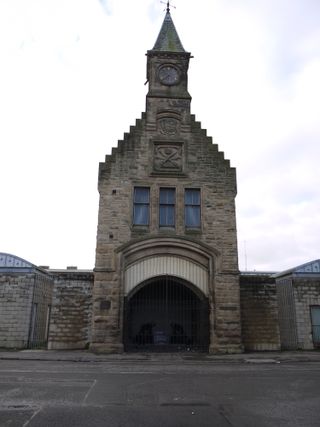 In the bottom of the tower there is a small display - with cannons and carronades.  The sign is a bit dilapidated, but you can still read it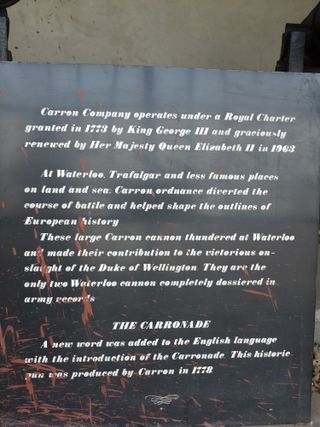 I mentioned the carronade in the post about Carlisle Castle, and now I can show you what it looks like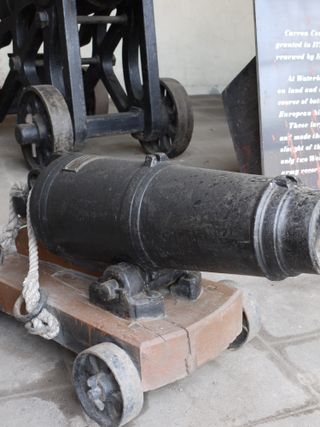 The next photo is of a falling down remnant of the  local .... oh dear, what expression is the correct one now .... mental institution (if we were being polite we would call it the asylum, otherwise it was the loony bin!)  I thought it would suit the atmosphere of the place to take the photo in black and white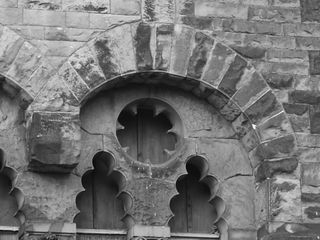 This next photo, although in colour, still shows how spooky the place looks - I somehow don't think it could have been conducive to recovering from mental illness!!
not bats in the belfry - just pigeons!!
My next stop was at the Falkirk Wheel, the only rotating boat lift in the world, which lifts the boats from a lower canal up to a higher canal (and vice versa)
I got quite excited, as there was a boat in the wheel and I thought it was about to turn and I would have wonderful action shots to show you ...... but it had broken down!!  So you will have to use your imagination (or look at the link, to see how it works!)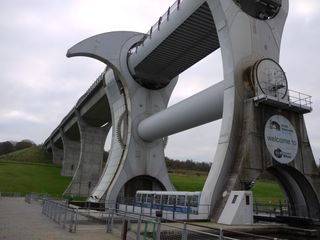 You can see the boat in the lower section - the whole thing then turns and the boat ends up in the top section, where it can then sail into the other canal.  No, I have never been on the boat trip - you know I don't like heights and water!!  Still, I did go into the visitor centre and have a nice pot of tea!!
To finish, a photo of the Ochil hills, bathed in afternoon sunshine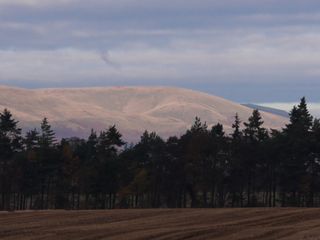 Tomorrow, I will be indulging in a bit of Christmas shopping, then there might be a spot of lunch in yet another garden centre, before I head off back down the road for home.
ps - the chilli was very good, if just a little bit hot!!